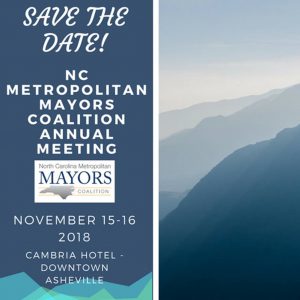 SAVE the DATE!! Nov 15-16th 2018 is the NC Metropolitan Mayors Coalition Annual Meeting.
Not only do we hope all of the Mayors can attend, but we also hope to see City Managers and key staff!  The meeting starts at 10am on Thursday Nov 15 and will conclude at 2:30pm on Friday Nov 16, 2018.
We will enjoy the autumn weather and sights in beautiful Asheville –as we will holding our meeting downtown at the Cambria Hotel. We will be sure to include activities that highlight the extraordinary revitalization of one of our state's vibrant urban centers.
Program details (including our annual business meeting and officer elections) to follow soon. For information on booking your accommodations and registering for the conference, please contact Beau Mills at Beau.Mills@metromayors.com .