Dec. 9, 2021
RALEIGH –The N.C. Metropolitan Mayors Coalition, a bipartisan group established by the mayors of the state's larger cities, elected Chapel Hill Mayor Pam Hemminger as its new Chair, Wilmington Mayor Bill Saffo as Vice Chair and Concord Mayor Bill Dusch as Treasurer. Greensboro Mayor Nancy Vaughan rounds out the Coalition Officers as the Immediate Past Chair. Winston-Salem Mayor Allen Joines and Statesville Mayor Costi Kutteh were re-elected to at-large seats on the Executive Committee, while Mooresville Mayor Miles Atkins, Apex Mayor Jacques Gilbert and Raleigh Mayor Mary-Ann Baldwin were chosen as new members.
"I look forward to working with my fellow mayors in the coming year. Through our work together, including how we share strategies and ideas, we make our state and our cities great places to live, work, study and play," Mayor Hemminger said upon being named to the post.
Mayor Vaughan reflected on the positive work accomplished by the Coalition, as well as its future.
"It was an honor to have spent the last couple years leading the Metro Mayors and I am so excited about the future of our state's cities," she said.
The elected officers and executive committee will lead the Coalition's collaboration with state and federal officials, as well as other stakeholders, as they advocate for policies that create high quality jobs, effective transportation networks, affordable housing and public safety.
At their first in-person gathering since the pandemic, the mayors were hosted in Durham by outgoing Durham Mayor Steve Schewel. They gathered to share their experiences during this difficult period and discussed their shared priorities and goals for their work together. They were especially pleased that Gov. Roy Cooper joined them for important and fruitful discussions on issues of common concern. They also enjoyed a video conversation with officials from the White House Office of Intergovernmental Affairs.
A highlight of the gathering was the tour of Durham hosted by Mayor Schewel. The mayors, also joined by incoming Durham Mayor Elaine O'Neal, toured the Chesterfield Life Science Building and Duke University. Reflecting one of the top priorities for all the cities, the mayors visited an affordable housing project – the Willard Street Apartments, an extraordinary housing partnership between the City of Durham, DHIC, Self-Help Ventures and Duke University.
The North Carolina Metropolitan Mayors Coalition, founded in 2001, is comprised of the mayors of the state's larger cities, that combined have over 4 million residents and serve as the centers of economic growth in NC. The Coalition, an affiliate of the NC League of Municipalities, is a non-partisan, mayor-driven organization that focuses on issues of special interest to our larger cities and metro regions in a fast-growing and urbanizing state. The Coalition members work with each other and federal and state officials to promote policies that encourage high quality of life, job creation, protect local revenues, invest in public infrastructure, and keep our cities safe.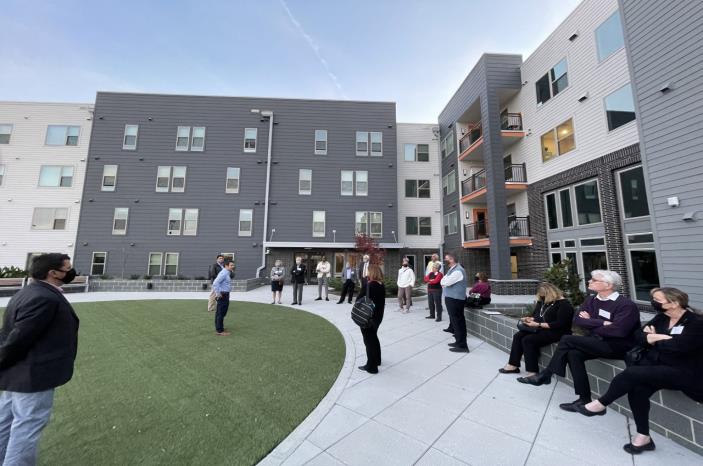 Annual Meeting being held in Durham – NC Metro Mayors visit Willard Street Apartments, affordable housing that is adjacent to the Durham Station Transportation Center